:: bio + Pics + Lyrics + Pro ::
:: bio ::
Le projet Solstis a débuté en 2001, après quelques répètes et le départ de Marc, le groupe commençait à s'orienter vers un style plutôt "death mélodique/doom".

C'est à l'arrivée de Jérôme en 2002 et a motivation de Geo que le syle musical du groupe s'oriente dans un style death-core avec quelques parties mélodiques. Arnaud (Chant) vint se greffer au groupe deux jours avant le premier concert de solstis ! (21 juin 2002)

Après avoir fait quelques concerts, le groupe commençait à avoir de plus en plus de difficultés à trouver ses repères (musicalement parlant) suite à quoi Benoit jugea que le groupe n'était définitivementplus assez mélodique et quitta le groupe en janvier 2003. Bien que son départ ait quelque temps refroidit l'ambiance(...), le groupe décida alors d'integrer Eisou (guitare) : la brutalité prend alors le dessus écrasant en intégralité les mélodies. La venue d'Alex (Basse) en Mai 2003 apporte encore plus de puissance en live.

SOLSTIS se retouve en définitif dans un style assez bâtard, pas assez blast pour être classé dans grind (bien qu'étant très rapide), et trop lourd pour être dans le death classique : SOLSTIS est à la fois Death- Grind-Crust-Hardcore et se définirait plutot comme une sorte de [Brutal Death-core].

Concernant la Famille, Solstis fait ses débuts avec Musica Libre, puis se monte en assoc' en 2004 (acts not speeches) et fait également partie du collectif KEUS LIFE CREW
:: Line Up & Pics::
alex @ bass ------arno @ vox -----------eisou @ guitar ------geo @ drums ----- jé @guitar+screams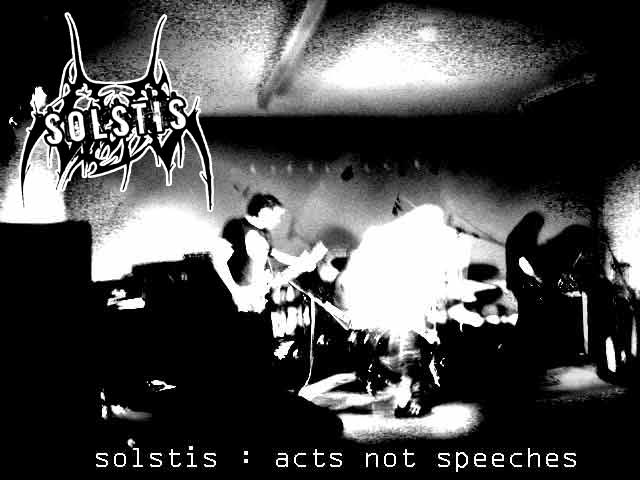 Logos (cliquer pour agrandir) :
Logo Blanc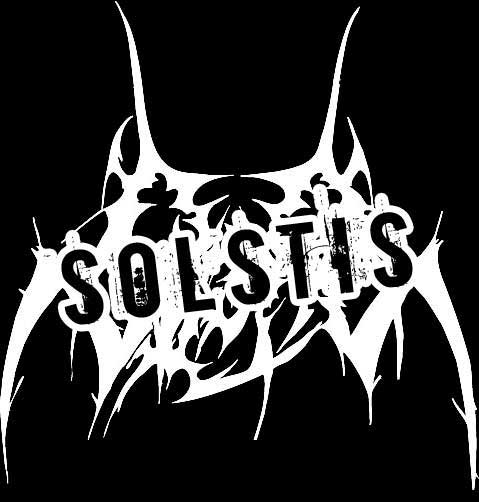 Logo Noir
:: Lyrics::
A tomb for Mass Media
Every day through subjectifity they play the part of an (in) jury, letting us no other way to think, the Weapon of State and Government is ready for the Brain-washing

A lie for their lives, A movie for their deads, A fucking Morality for the Fakes
Smash it !
Smash It, Kapitalismus soll abgeschaft werden...
Way Of War PT1
Building dreams for keeping us submissed - Building illusion to contain our revolt Dein Gericht ist Geld und mein gericht ist Freiheit - Was ich fühle kannst du nur durch Geld und Influenz betrachten.

Hunting, Suffering, paying, what's that way ? isn't mine... is that Yours ?
Way Of War PT2
every day you try to destroy the
bounds between you and their political
war machines. the one you are
allowed to dois to shut up and to enjoy their pleasures that's not yours But now react !
Radical attack toward oppression no time to lose to try to think about it ! While you
can't scream : they decide who are your own ennemies and how you have to treat them.
But here's my violence and here's my choice : they'll be my victims
Impulse
on a assez bouffé dans leurs poubelles moralistes pour être
convaincu de la possibilité et de la nécessité de reconstruire
un micro-environnement social à partir des cendres de leur
principes et de leurs déchets iconoclastes, pour ça il suffit simplement d'une impulsion
qui résultera d'une accumulation de symptômes bénins et insignifiants (à l'échelle de
l'individu et de sa consideration à échelle étatique)
Mk Ultra
The secret holocausts from the 20th century took place in our Minds and
in butchery, the way of domination from human by human,
could finely be thank war and people developed technologies

CIA developed concept of material mind control,
Army and drugs are now well used to catch this goal
Creating alpha, beta, gamma delta minds is now the process engaged to MK Ultra
Am I real, am I Fake, Am I real am I dead
Reduce the man to be a machine with many closed and programmed sides
Divide he mind to reign on it seems to be the solution
Let me think free / Impossible ! your own mind disappeared in a representation
Let me act free / Impossible ! you're programmed to obey and not to protest
I want go out / Impossible ! because it is now a part of you
Fistfuck your Crone / Speeches are not enough, you're condamned
Acts Not Speeches
Your propaganda don't work with me yet ; you use my words but you won't
use me Beside your rules we act and don't speak so much than you, you
try to oppress us under your hypocritical "vote for moral" system,
we choosed our way and don't consume your success speeches
:: Don't vote organise you, I act freely ::

L'intégrité
même si la rage m'habite
c'est le fric qui tient ma braguette
Make it Collapse Slowly...